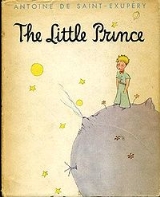 The Little Prince by Antoine De Saint-Exupery is an amazing book. . I hadn't read this book in about 15 years. All I remembered was that it was sad. As a 'grown up' I was able to see so much more. The ideas that were common place to me as a child are now extraordinary and deep. Which is the exact phenomenon that he speaks of in the book. About 'grown ups'.

A friend of mine has a tattoo of the Boa Constrictor from the inside and outside. One on each of her forearms. I found this out only last week as I had never seen her in short sleeves before. The next day, I was enjoying a morning of happy thrifting and saw this book on the second hand book shelf. I sat on the floor and read it until I was finished right there in the thrift store. Then I bought it, brought it home, and read it again. It has been in my head for the last two days... I don't feel that I can explain the story very well... it is just a book that everyone should read. Especially if you have not read it in a very long while.
It looks like a children's book. Don't be fooled. This book is not really for children, but for the grown ups that children have grown into.